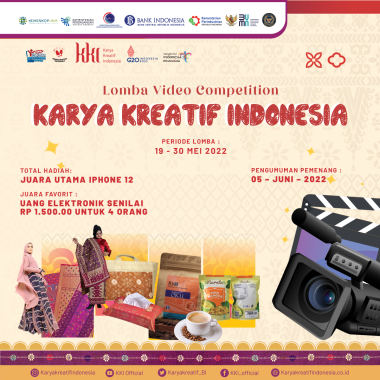 Video Competition
19 - 30 May 2022
Competition Mechanisms
Participants make videos with a maximum duration of 2 minutes USING MSME products.
The products can be cloth, clothes, bags, shoes, crafts, accessories, coffee, beverages, and processed foods.
FEEDS VIDEO/REELS format with the video content in review, mix, match, OOTD, etc.
Participants may add appropriate music, images, animation, and text.
Videos are made as creative as possible and uploaded through a personal Instagram account with a note that the account should not be private.
Participants added interesting captions with messages of support, love, and pride for Indonesian-made products.
Participants must tag @karyakreatifindonesia account by adding the hashtag #KKIVideoCompetition2022 #KKI2022 #BanggaBuatanIndonesia #bersamaUMKMbangkit #UMKMgodigital_goglobal
The submitted video has never been published before.
Participants may submit more than 1 work, with a maximum of 2 works in one account.
Competition Requirements
Participants are open to the public.
Must follow the @karyakreatifindonesia account
The video is the result of your own, not the video of others or plagiarism.
The video must not contain SARA, pornography, and things that are contrary to the norms, laws and regulations that apply in society.
The video has never been and/or is not being entered into a similar competition.
The judges' decision will be final.
In the event of fraud, the organizers have the right to annul the winner or expel the party concerned.
When it involves the release of models & properties, all responsibility rests with the participant.
The organizers reserve the right to use all submitted works for publication and promotion.
The organizers will contact the finalists through the official @karyakreatifindonesia account for verification.
Can include more than one video
The winner will be contacted by the organizer through the official Instagram account @karyakreatifindonesia
Prize tax is borne by the winner.
This competition is free of charge.
Prize
Uang elektronik senilai Rp 1.500.000 untuk 4 orang
Winner Announcement: 5 Juni 2022